About Us
The Johnson County Recycling District was created by Indiana State Statute in 1991 to help our community reduce, reuse, recycle and properly dispose of solid waste. The District provides services and information aimed at diverting waste from landfills and keeping hazardous materials out of our soil, air and water.
Every waste reduction, reuse or recycling effort you make:
extends the life of a landfill
improves the environment
reduces pollution
and conserves natural resources.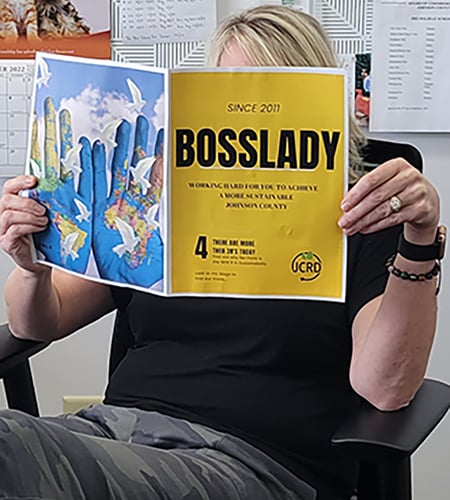 Jessie Biggerman
Executive Director
Jessie Biggerman has been Executive Director for 11 years and counting. She has lived all over the US but chose to call Franklin her home; with her husband, two college-aged kids and too many fur babies to count.
EMAIL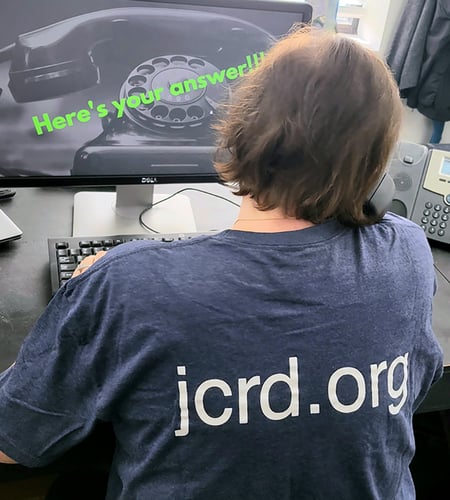 Karla Coffey
Deputy Director
Karla Coffey joined JCRD in 2013. Because of her abundant knowledge and unsurpassed customer service skills, we consider her our very own "Answer Lady." We bet you won't be able to stump her, but you can try!
EMAIL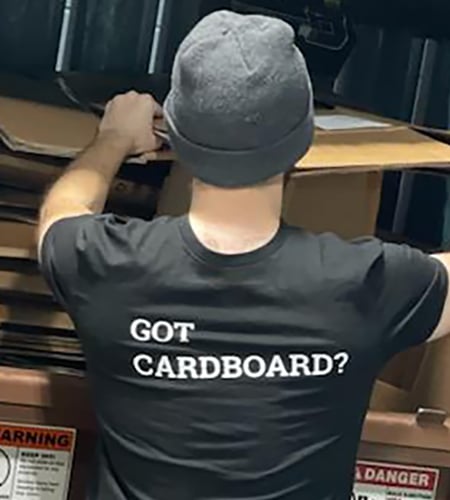 Steven Phair
Operations Manager
Steven Phair was born and raised in Franklin, Indiana. He has a beautiful wife and two wonderful children. He spends his time on his private jet enjoying the finest champagne…in his dreams!
EMAIL
JCRD Board
Meetings
All meetings are scheduled for 2 p.m. at the Courthouse Annex, 86 West Court Street, Franklin, Indiana (unless otherwise noted. All meetings are joint meetings with the CAC.
Accommodations
In accordance with the Americans with Disabilities Act, the Johnson County Solid Waste Management District is required to provide reasonable accommodations to persons with disabilities wishing to attend public meetings. Accommodations are available upon request to persons with disabilities who require alternately formatted materials, auxiliary aids, or reasonable modifications to policies and procedures to ensure effective communication and access to the public meetings.
If you require accommodations to attend the meeting, please contact Karla Coffey, Deputy Director, at 900 Arvin Road Suite A., Franklin, Indiana 46131, Telephone: 317.738.2546 Extension 2.
Please allow at least two business days to arrange accommodations.
Minutes and Agendas


Annual Reporting and Data
Members
Kevin Walls, President
Johnson County Commissioner
Mark Myers, Vice President
Greenwood Mayor
Ron West, Secretary
Johnson County Commissioner
Brian Baird
Johnson County Commissioner
Dawn Graham
Edinburgh Town Council
John Ditmars
Johnson County Council
Dave Lekse
Greenwood City Council
Lynn Gray
Attorney
Patrick Sherman
Comptroller
Citizens Advisory Committee (CAC)
The Citizens Advisory Committee (CAC) is mandated by the State of Indiana to advise the board of directors and address specific questions from that board. The CAC is to be comprised of citizens who are truly interested in the subject of solid waste, not political appointees. The board may ask the CAC to study environmental issues specific to that county. The CAC would then present its findings and other recommendations to the board. In addition, the CAC is tasked with assisting the SWMD with a proposed budget each year.
Shay Hartley, President, Center Grove
Mark Appleton, Trafalgar
Becky Appleton, Trafalgar
Elgin Martin, Franklin
Tom Padgett, Franklin
Jeff White, Franklin
Diane Byers, Greenwood